Build a personality-infused brand that feels like home and captivates best-fit clients month after month
The Captivation Code is a 10-week experience for quietly-rebellious online coaches, creatives, and consultants who want to build a personality-infused brand that stands out and stands the test of time
We begin 12th October 2020
Captivating brands don't just turn heads, they hook hearts. They don't just get noticed, they get remembered. They don't just invite you inside, they make you feel like you never want to leave.  

Want to know how to build one?
One that's so infused with who you actually are (instead of who people say you should be) that showing up and sharing your brilliance feels like the most natural thing in the world.
One that allows you to confidently evolve and expand into the business owner you dream of becoming.
One that makes your mark on the market in an irresistible and unforgettable way. 
Yes? You're in the right place.
You're exceptional at what you do, and your clients get rave-worthy results, but you're ready to feel more like the go-to expert than the best-kept secret
Here's the thing. Branding is about perception. What people (like your best-fit clients) think and say about you when you're not in the room. You might be thinking that means branding is outside of your control. But there lies your opportunity. Because if you're fiercely intentional about the way you build your brand, you can shape the perception for them.
That means you can set yourself apart from "competitors" and draw yourself closer to your best-fit clients in a way that feels good to you simply by uncovering and leveraging the gold that's already inside you. (I call this unlocking your inner goldmine. Because, yes, you are a total goldmine.)
As an online business owner who's the face of your brand, the way you express yourself and the experience you create is what makes you worth recognising, worth remembering, and worth referring.
Why is it, then, that when you're trying to show up in away that's rooted in your unique personality and gifts, you look to everyone else for clues? All that leads to is comparison, indecision, and hiding.
But weren't destined for the shadows. You were destined to shine. And it's about time your brand reflected that.
Just like your home is an expression of who you are, what you love, and the way you see the world, your brand should be too.
Most online business owners who are the face of their brand become so focused on conversion they miss a crucial part of brand development. Captivation.
The truth is, you'll only convert a client after you've captivated them. And if you focus on captivating them, converting them becomes a natural progression. 
Captivating your best-fit clients is about more than turning their heads. It's about hooking their hearts by sharing pieces of your own. Resonating with them so deeply they fall in love with you, buy from you, and tell everyone they know about you.
You're ready. for that So let's go.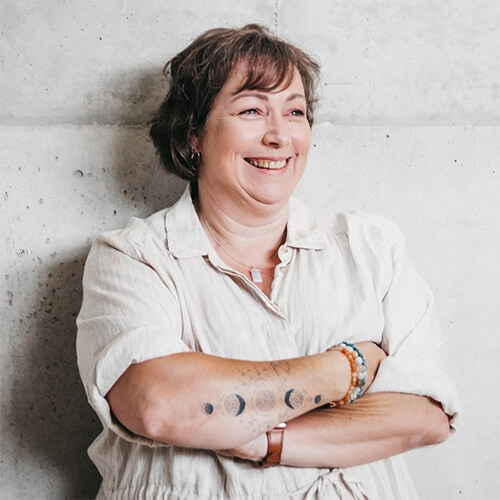 Before The Captivation Code, my brand and my message were muddled and unclear, and while I was working with clients, some were not a perfect fit. This program changed all of that. I gained clarity on my brand and message I've never had before and some key tools around messaging and concepts that have been fundamental for my business. If you're looking to get really clear on how to talk to your people in a voice that sounds like you and connects easily rather than having to go 'hard-sell,' The Captivation Code is a fantastic program, and if Suzi has made it even better since the spring, it better sell out as people are missing out otherwise!!!
Pippa Parfait, Belonging Coach
Right now, I bet your business doesn't feel like a reflection of who you truly are and what you want to stand for. And that means:
You're not established as a leader or go-to expert in your industry because you're not (yet) known for bringing something unique to the table
You're not confident in clearly and authentically communicating what your brand stands for and why you're the one for your best-fit clients (rather than "just another service-provider")
You don't feel like you've reached "pro" status and you're overdue an uplevel
Your door isn't the one your best-fit clients come knocking on when they need what you're offering, so you're forced to take on clients who aren't a great fit (and we all know how that can turn out…)
You seem to blend into the ocean of online business owners and wonder how those who rise to the top are getting all the traction when their ideas aren't shinier than yours, their work isn't better than yours, and their devotion isn't stronger than yours
You're nervous to raise your rates (even though you know your work is worth it) and putting your offers "out there" consistently gives you the skin-shivers
You feel a bit lost and you're not clear about what your core message is, let alone how to make it sound irresistible to the people you'd really love to work with
You're here because you're ready to have best-fit clients lining up at your virtual door, a calendar booked out weeks in advance, and the confidence to raise your rates, say no more often, and show up as the captivator you know you can be.
You make it happen inside The Captivation Code
A unique experience of transformational exploration + expression

The Captivation Code is a 10-week program designed to help you build a brand you feel completely at home in and nail your message so that best-fit clients + opportunities come knocking
We begin 12th October 2020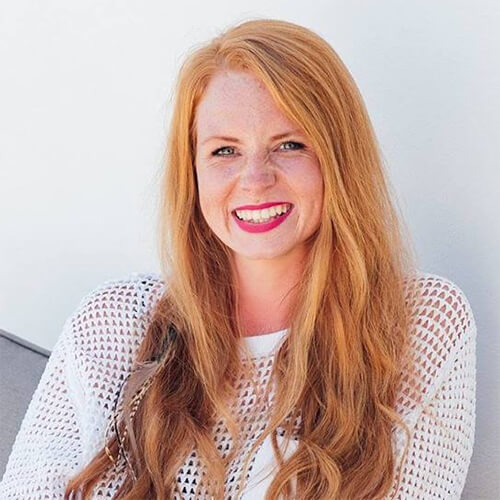 THANK YOU. The journey that I've been on over the past few weeks has been a real game-changer. I honestly feel like I've been confused and playing guessing games for a while now, like I've been scratching the surface on what I 'think' I'm doing or what my work is. Going through The Captivation Code has been the catalyst to me finding some answers I've been really, really searching for. It's unlocked SO MUCH clarity for me and I'm delighted. It feels like it's really coming together and making so much more sense in my head (and heart!).
Sophie French, Mindset + Business Coach
This experience is for the quietly-rebellious online business owner who wants to…
Uncover, refine, and OWN that unique thing helps them build greater recognition, reputation, and reward
Clearly and easily infuse more of their unique personality, beliefs, and stories into everything they communicate
Leverage their expert brilliance and use it to position themselves as a "go-to"
Captivate more of their best-fit clients and turn them into brand ambassadors
Feel 100% at home in their brand + business, now and years down the line
Build a clear, creative, and cohesive brand + business on their own terms, by their own rules
Raise their rates, build a waitlist, and feel comfortable saying no to clients that don't align
And do it all without hustling their tail off (because hustling is so 2016)
The Captivation Code is the culmination of my experience creating personality-driven brand strategies and messaging for me and 200+ service-based clients over the past 5+ years. Clients who run five-figure businesses. And clients who run multiple eight-figure businesses.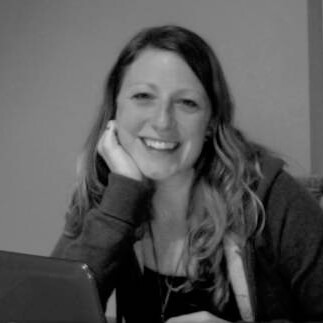 It's transformed my brand beyond recognition, and I'm completely in love!
If you really want to understand what makes you special and why people need to work with you, and then be able to wrap that up into a captivating brand, you NEED to join the Captivation Code. Doing the necessary work to really get to a brand that feels like you is SO hard and almost impossible to do inside your own head. I was stuck for YEARS and branding and messaging is my business.
I never would have seen it, or had the confidence to own it, if it wasn't for the Captivation Code. The process was a joy, and the support from Suzi is priceless. My favourite thing was having you pull out all the little gems that I'd overlooked, and reflecting back to me my thoughts in a much more succinct and coherent way! The way you see things is incredible. My brand now feels so much more aligned, so much more captivating, and so much more cohesive.
Amy Lambert, Marketing Consultant
The Captivation Code will also serve you like a white-gloved butler (in the buff is optional) if:
You have to write anything for your online business (duh!) and you want words to flow out of you like a tap with exceptional water pressure
You want to write (or hire out the writing of) website copy that has people gripped from headline to call to action because it's rooted in your story, sprinkled with your personality, and has your unique brand fingerprint stamped all over it
You send emails in your business and you want them to feel more like you're telling a story than selling a service
You're launching a service or a program and you want your landing page / sales page / social media posts to be eyeball-magnets, not formulaic snooze-fests
You want to feel confident AF every time you hit publish because you know you're communicating in a way that's true to you, reflective of how you want your brand to be perceived, and that cupid arrows the hearts of your best-fit clients
To be clear, this isn't a copywriting program, but it IS a program that will make writing copy 10x easier for you. Instead of pulling words out your ass and then tossing them in the bin when you decide "nobody is going to read this rubbish," you'll know what your brand stands for, how you want to be perceived, and how to communicate in a way that positions you as an expert (and invites all the right people inside your corner of the internet).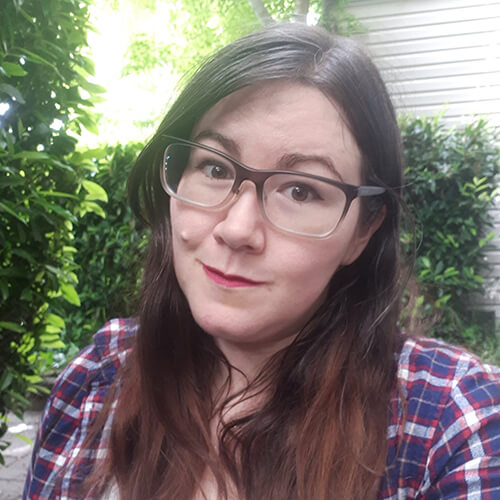 I've booked a bunch of new best-fit clients, raised my rates, and launched a new website.
This brand is just…me. It's grounded and flexible and it flows and it's just ME. All my sales calls have been SUPER easy. Everyone's been like "Yes, I want to work with you" because I'm showing up as more of myself because this is a brand I'm comfortable with.
Before the Captivation Code, I spent months spinning my wheels, trying to figure out branding and direction. Despite having all the tools I needed, I was just too close to everything. The Captivation Code was exactly what I needed to sort through the mess and build a brand I can take everywhere with me, no matter what phase my business is in.
Suzi has a unique approach to branding. One that is unconventional, a little uncomfortable, and absolutely mindblowing. She will help you build a brand that feels like home and truly feels like you, so you can drop all the performative shit and just be yourself, while still captivating clients, winning hearts, and opening wallets. I can wing content for the first time and feel like it comes out still on brand which is a miracle.
Caelin Aerin, Copy Coach

Before The Captivation Code, I had no clear vision for my brand & business.
I was kind of flying by the seat of my pants and didn't know how my brand was memorable or different to someone else's. The video lessons were bite-sized yet engaging and the workbook was simple yet so impactful and really helped me to think about things in a different way.
I loved how I ended up with a completed roadmap for the kind of business I wanted to create. It was so valuable and insightful to go through the program with other inspiring people and see what challenges and results they were getting. Now I feel so much more confident about the direction of my brand.
Maria Carras-Woollard, Mentor to VAs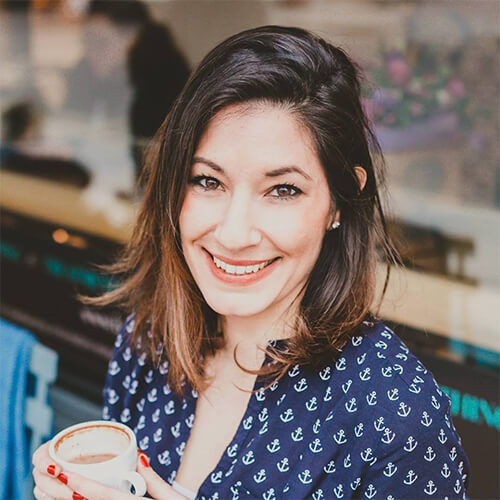 The Captivation Code begins 12th October 2020
What if showing up and sharing your brilliance felt like the most natural thing in the world? It's time for creative liberation. Here's how we'll turn you into the ultimate captivator…
Module 1: The Plans
YOUR INTENTIONAL VISION
You wouldn't build a house without a clear plan, so why would you build a brand without one? The answer is, you wouldn't. You've got to know where you're going in order to build the brand that takes you there. Together we'll:
Create a clear and intentional vision for your brand, business, and life (because you build a brand to serve your business, and you build a business to serve your life)
Become 10x more confident in how to show up as the human and business owner you want to be (and 100% have the potential to become)
Channel your inner Marie Kondo and declutter what you don't like and create more space for what sparks JOY
After this module, you'll be crystal clear on what success actually means to you, you'll be able to make fiercely intentional decisions and take action from a place of certainty, and you'll begin showing up in a way that will make you and your brand captivating to all the right people. It's time to embody YOU 3.0!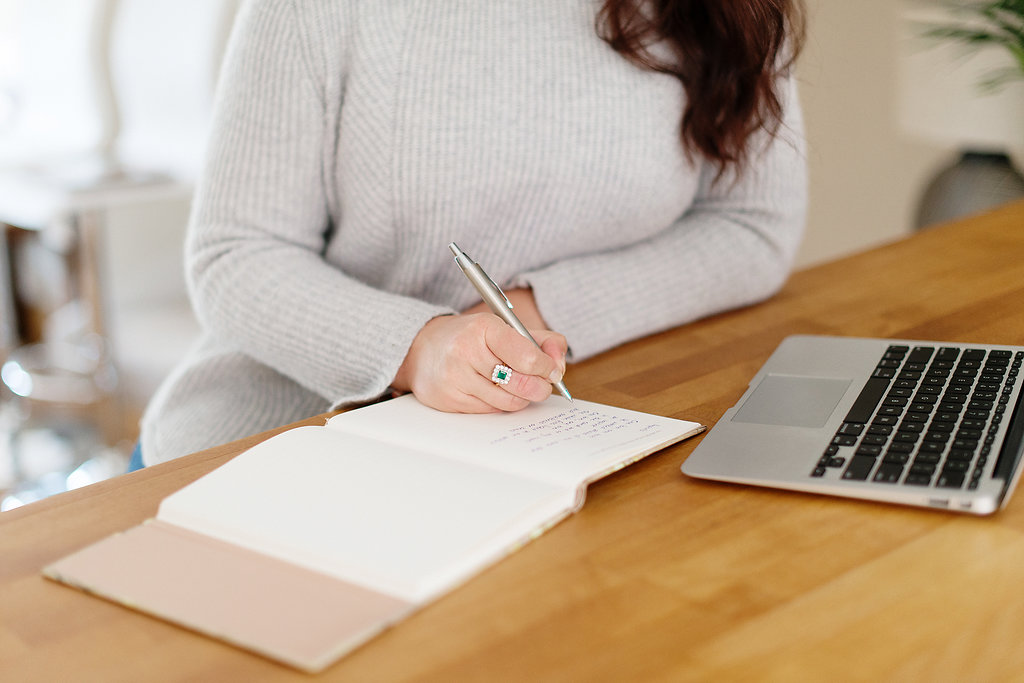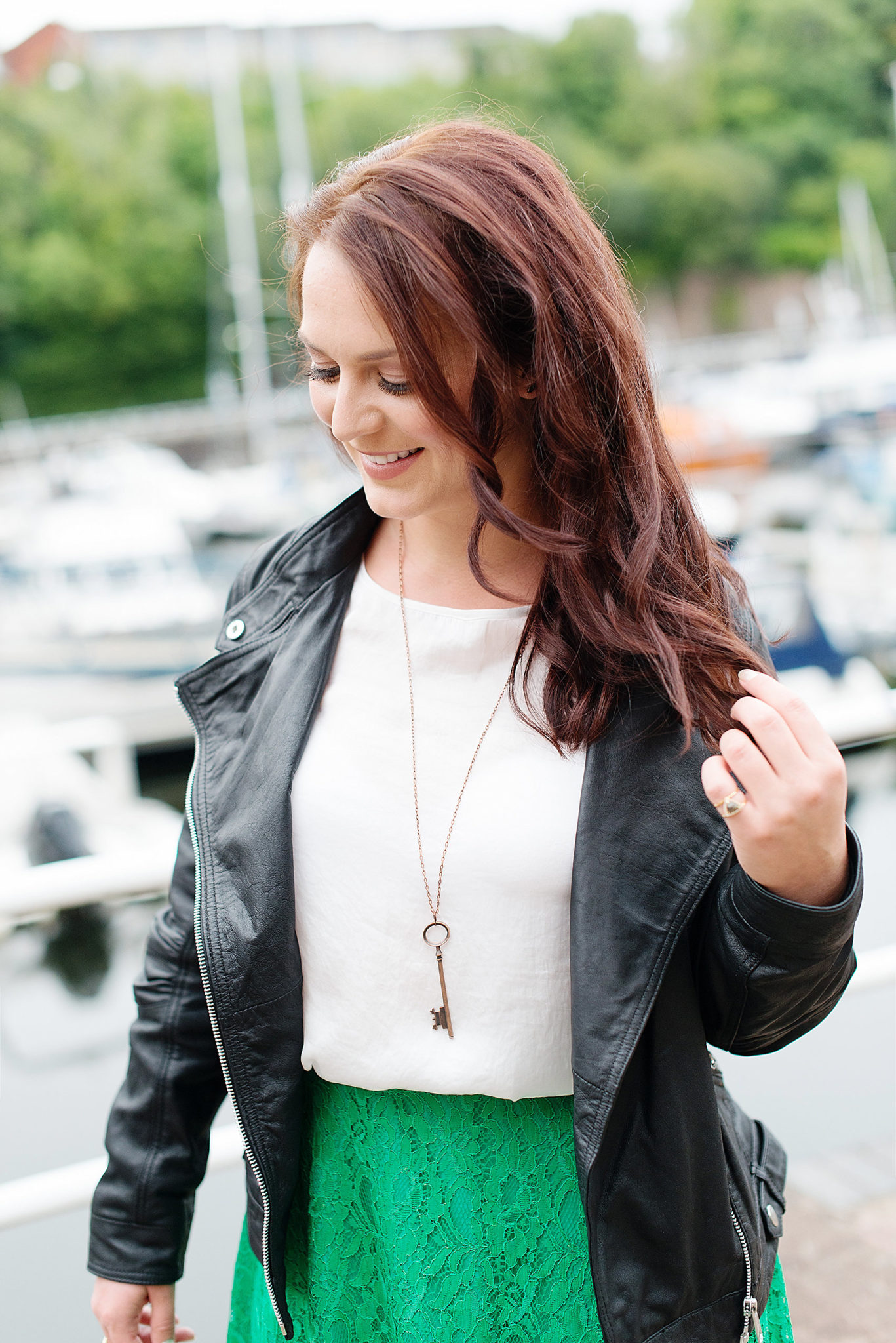 Module 2: The Foundations
YOUR UNIQUE ESSENCE
Just like a house needs to have a rock-solid foundation that supports everything that stands on top of it, your brand needs to have a rock-solid foundation that supports and guides every decision you make. Together we'll:
Unlock your inner goldmine and bring your brilliance to the surface so you build a brand 100% modelled on YOU, not a "competitor"
Discover exactly what your brand stands for and stands against and how to strategically leverage those things to stand OUT (and never

dilute yourself or compare yourself again)

Use the "Trio of Truth" to shape the perception of your brand and turn your essence into an edge that has the power to turn browsers into buyers
After this module, you'll be able to stand out to the right people simply by showing up as more of who you already are, you'll naturally infuse more of the true you into your brand, and you'll be more liberated and excited to put yourself out there than ever before.
Module 3: The Doorstep
YOUR BEST-FIT CLIENT



In this noisy online world, how do you get seen and heard by your best-fit clients? It's not by shouting louder, it's by speaking a different language. Every day you're not articulating your value effectively, you're letting potential clients slip through your fingers like mulberry silk. Together we'll:
Clarify exactly who your best-fit client really is and how you can captivate more of them while repelling people who aren't a good fit

Get into the minds of your best-fit client so they're drawn to you, ready and willing to invest, by becoming a "thought-thief"
Nail your core messaging so that the language you use in your brand speaks to the souls of your best-fit clients
After this module, you'll know what you want to say and how to say it, articulating the value you bring to the table will become natural and effortless, and you'll have best-fit clients lining up at your door (and around the corner).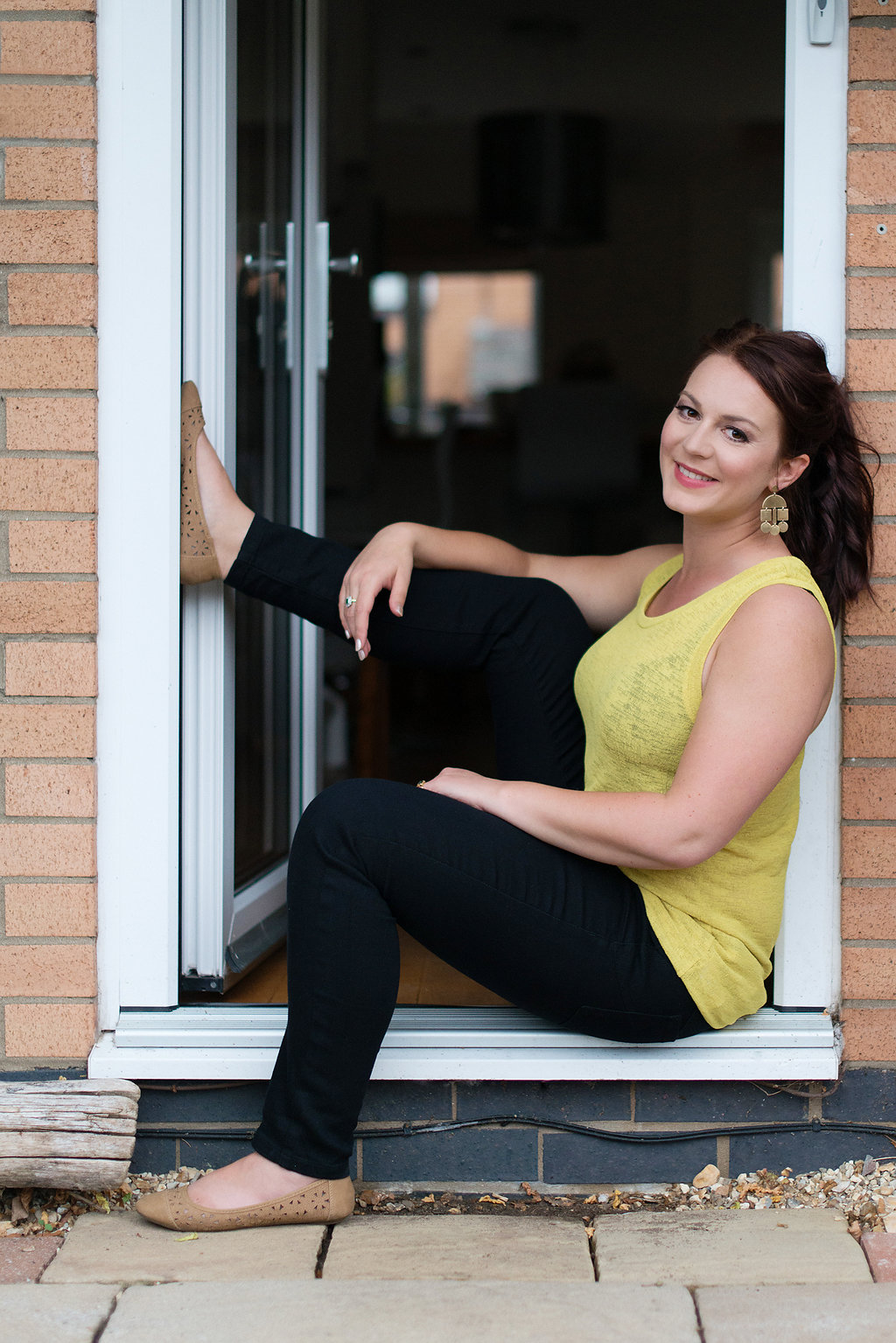 Module 4: The Walls
YOUR IRRESISTIBLE BRAND STORY
In many ways, your story IS your brand. And when you tell the right version of it, in the right way, it gives emotional and authoritative context to your work — and that's what will hook the hearts of your best-fit clients. Together we'll:
Find the where-have-you-been-all-my-life story that shows off what you stand for, why you're unique at what you do, and why people should care about it
Compel your best-fit clients to come closer by articulating your expertise in a way that puts genuine connection at the forefront
Have a springboard to write (or rewrite) your about page, scroll-stopping social media posts, and original emails (there'll be frameworks to help with that in module 6!)
After this module, you'll have the confidence to captivate your best-fit clients with a story so irresistible they'll want to hang out with you and buy from you.
Module 5: The Roof
YOUR UNIQUE BRAND FINGERPRINT
How many times have you caught yourself wondering how can I stand out more online? That's where a brand fingerprint comes in, the creative differentiator that puts you in a league of your own. (Hello referrals and waitlists!) Together we'll:
Discover the 7 different types of brand fingerprint and choose which one (or two!) is the perfect fit for you — when you know this, expressing yourself and "selling" yourself becomes so much easier and more fun
Develop creative ways you can infuse your fingerprint (verbally and visually) so that your brand tattoos itself on the brains of your best-fit clients
Ensure your brand stands the test of time and evolves with you – so if you decide you want to pivot in your business, your brand foundation helps you rather than hinders you
After this module, you'll finally have a you-infused unique angle or creative concept that will position you with such strength that more best-fit clients will want to hire you, more opportunities will land in your inbox, and you'll turn what you stand for into what you're known for.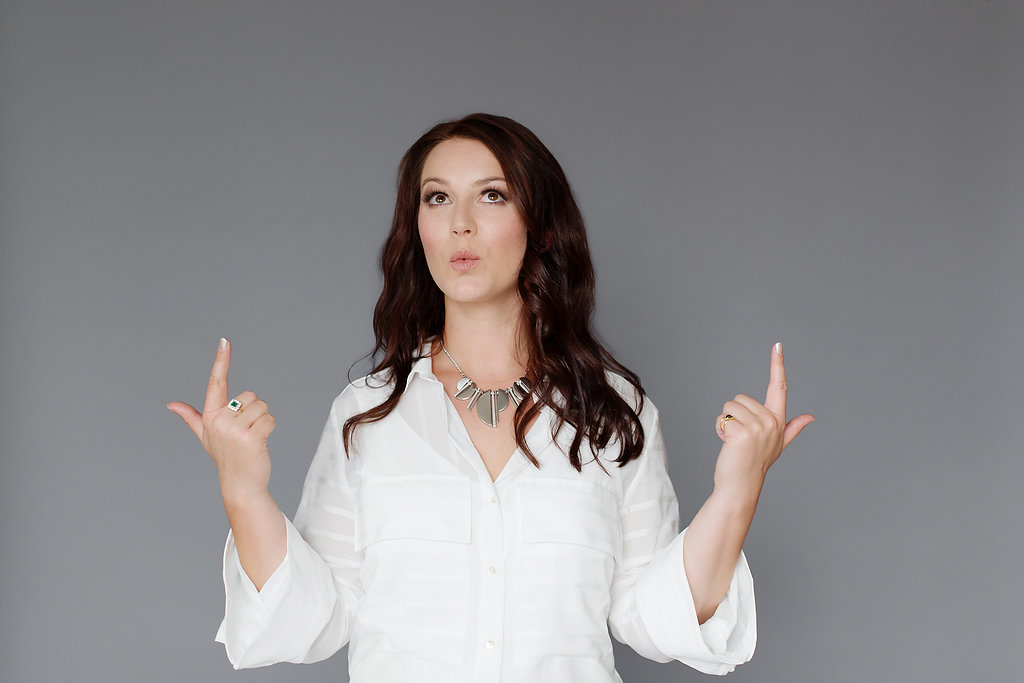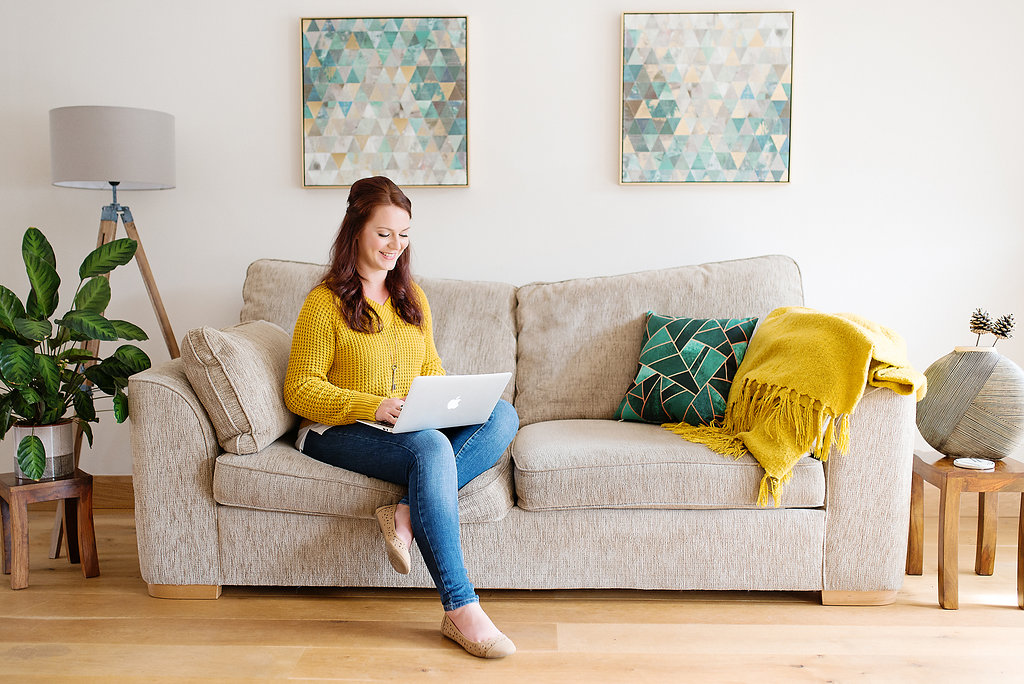 Module 6: The Interiors
YOUR DELIGHTFUL BRAND EXPERIENCE
Once you've got your rock-solid strategy and story, it's time to go pro and string everything you've worked on together in a delightfully cohesive way that feels like home for you and invites all the right people inside. Together we'll:
Infuse your personality and brand fingerprint into your website so that browsing sessions become intriguing experiences that encourage best-fit clients to take action on your offers (there's a whole website framework for this!)
Captivate more buyers and brand ambassadors through the other essential brand touchpoints (some of these will be unexpected) by being clear and consistent about the way you show up 
Build a league of your own online and have you bursting with excitement to start showing up as the quietly-rebellious leader you were born to be
After this module, you'll have everything you need to elevate your brand to "standout status" and captivate with conviction. This is radical self-expression at its most strategic — and it's time to make your mark on the market.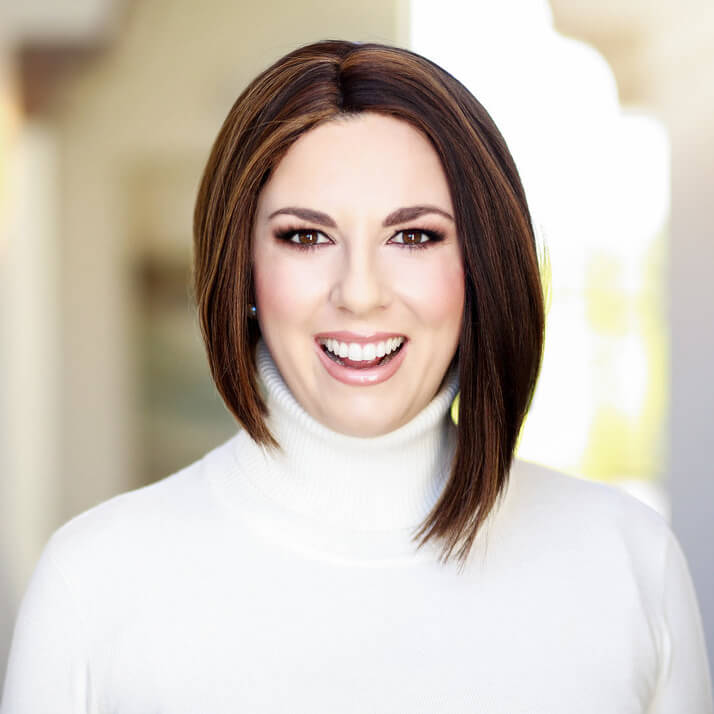 Suzi is a RARE EXOTIC UNICORN. I've worked alongside many a brand strategist over the years, and they're either whip smart, or uber creative, but rarely both. And then Suzi rolls in, blending both powerhouse and personality, which is absolutely her superpower. As a former lawyer, she knows what it takes to make a business tick, but as a creative? She knows what it takes to make it sing.
Ash Ambirge – Founder of The Middle Finger Project

Here's what your front row seat in The Captivation Code includes

Here's what your key gets you insider access to:
A series of short, thought-provoking, fluff-free videos (most are 5-10 minutes) released at the start of every week that guide you through my captivation process in a way that's clear, simple, and doesn't make your brain want to die (and yes, you'll have these forever and you can rewatch them as often as you want!).
A beautifully simple Brand Book split into short weekly chapters with questions ands tasks to help you unlock your inner goldmine as you go through the videos (the clarity this will give you is insane) and then set you up to express your brilliance in a unique way. Everything you need to position yourself as the expert to your best-fit clients and build a brand that feels like you and feels like home will be in here.
10 live weekly group coaching calls with me via Zoom where you'll have the chance to ask your questions and get deep, personalised insights and guidance from me as well as from your fellow Captivators on the call. I've been described as a wise soul and my background is both corporate and creative, so you'll get feedback which is a blend of strategy and art! (Not many coaches or mentors can offer both.)
Private Voxer access to me within certain time slots for any brand and business questions you want to ask in a 1:1 environment. You can consider me a captivation coach in your back pocket. Perfect when you feel a bit stuck and want the clarity to make moves (and make a statement). The value of this is ££££.
Your Captivation Code Trello board that will help you take the key parts of your Brand Book and turn them into a treasure trove you can dive into whenever you need to communicate through your business. If the Brand Book is where you'll excavate the diamonds, the Captivation Code is where you'll polish them (and keep only the best). This will cover your vision, your positioning, your brand story, your brand concept, your core messaging, and your overall brand experience.
A small, private Facebook community with built-in accountability to connect grow alongside the other personality-driven business owners in the group – you'll never feel alone, because you won't be. Every week, there will be an accountability thread where you can commit to what you're working on, and an opportunity to ask me questions as you work through the experience.
Recordings of the coaching calls in case you can't make it live, want to make more notes, or just want to watch my mug on screen again.
[et_pb_aio_extended url="https://docs.google.com/forms/d/e/1FAIpQLSc6VgQogPoQswNQpQvDoNOw8NpfNT48q5hJZMb4YrJn4aImXA/viewform" use_whole_link_on_off="on" button_on_off="on" button_text="Unlock this Door" button_url="https://docs.google.com/forms/d/e/1FAIpQLSc6VgQogPoQswNQpQvDoNOw8NpfNT48q5hJZMb4YrJn4aImXA/viewform" button_mobile_fullwidth="on" image="https://www.captivationhouse.com/wp-content/uploads/2017/12/Depositphotos_13173560_original-2.jpg" icon_alignment="center" animation="fadeIn" text_alignment="center" img_zoomin_hover="off" whole_content_animation="fadeIn" module_id="door-1″ module_class="door" scroll_fade_column_on_off="on" content_animation="fadeIn" button_one_animation="fadeIn" button_one_twod_hover_style="hvr-grow" button_one_sb_hover_style="hvr-bubble-top" button_two_animation_on_off="off" button_two_animation="fadeIn" button_two_animation_reveal="off" button_two_twod_hover_style="hvr-grow" button_two_sb_hover_style="hvr-bubble-top" _builder_version="4.4.8″ header_level="h2″ header_font_size="34px" custom_padding="0px|0px|0px|0px" custom_css_main_element="padding: 0em !important;"]
Lifetime access to The Captivation Code curriculum videos
Beautifully simple supporting Brand Book
10 group coaching calls (and recordings)
1:1 Voxer access
Captivation Code Trello board
Small, private Facebook community with built-in accountability
12 keys available
[/et_pb_aio_extended]
The Captivation Code begins 12th October 2020
Who's the Head of this House?
Hi! I'm Suzi Gray, brand + messaging expert, and the founder of Captivation House. If we haven't already met, I help service-based online business owners give their brand a personality-infusion so it feels like home and has best-fit clients knocking on the door.
In the 5.5 years since I started my company, I've worked with 200+ business owners around the world illuminate their unique essence, articulate their irresistible value, and captivate more best-fit clients. I'm talking results like:
1000% ROI(!!!)
Selling their programs at the highest ever rate
Having their biggest launch ever
Selling their most expensive service within 24 hours of their website going live
Filling up their programs without a fancy funnel
Attracting best-fit clients simply because their messaging was so resonant
All in a way that feels 100% true to them. I built my copywriting business completely on referrals (zero ad spend) and a huge reason why I've been able to do that is because of the strength of my brand.
Inside The Captivation Code I'm peeling back the curtain to my own simple but powerful methodologies, so I can guide you through the process of determining how you want to be perceived, and then molding that perception into a clear, creative, cohesive message and a can-I-please-stay-forever kind of brand.
The Captivation Code is a journey to fully understanding who you are, what makes you unique, and leveraging those special characteristics to build THE brand that will elevate your recognition, your reputation, and your reward.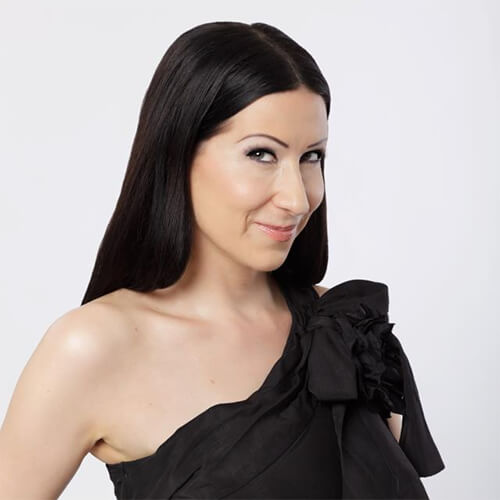 If you want to uncover that 'thing' that makes your brand special, Suzi is your gal. She's got a knack for you seeing you, bringing you of the shadows (in a fun way), and leveraging what you've already got. Your elevated brand awaits. Don't delay.
Erika Lyremark – Author, Think Like a Stripper & Creator of The Daily Whip


Take this program! You will gain so much clarity about your brand. Suzi's generosity, warmth, humour, enthusiasm and most of all keen intelligence were such a gift! You helped me see things about myself that I couldn't see on my own.
You helped me make connections between who I was and what I have to offer in a way that in no way felt forced or fake or 'market-y'. I now have the clarity and tools to market myself and tell my story in a way that will resonate with my best fit clients. I launched my first group program and the work I did with you set me up SOOOO beautifully. Thank goodness for The Captivation Code. I don't feel the least bit icky about ANYTHING I wrote and my brand really comes through.
Erin McCarthy, Mindfulness Coach & Philosophical Counsellor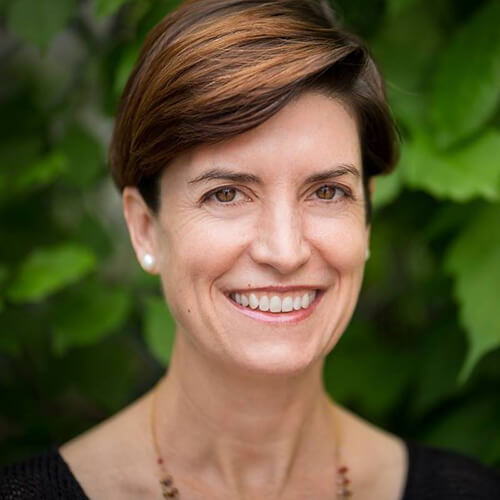 Your captivating brand will be created with these three building blocks in mind
1: Clarity
Being unapologetically certain about what you stand for and what you want to be known for, and strategic about who you want to serve and how you want to serve them.
Most personal brands are lucky to even get this far. Maybe it's because most people believe "brand clarity" is simply taking an archetype quiz, picking 5 core values, and creating a mission statement. (Spoiler alert: it's not.)
When you get deep, diamond-cut clarity on your brand and the way you want to show up in it, your confidence shoots up out the chimney and your momentum for making smart decisions and taking aligned action is unstoppable.
2: Creativity
Turning your personality, your beliefs, your stories, and your skills into a creative concept that's easily recognisable, memorable beyond five minutes of interacting with your brand, and completely unique to you.
Most big brands use a creative concept. Most successful adverts use a creative concept. And yet the vast majority of personal brands… don't. That sounds like one heck of an opportunity for you!
When you leverage creativity in your own business (boldly or subtly), you automatically start rising to the top, because your brand suddenly connects in a way that other brands simply can't, and that's what gets your best-fit clients noticing, loving, sharing, and buying from you.
3: Cohesion
Threading what makes you unique through every facet of your brand – the strategy, the copy, the photos, the design, the website, and the whole brand experience.
This is what elevates a brand to serious pro status. Cohesion tells everyone who needs to know that you mean business, you know your shit, and you're fiercely intentional about standing tall in a league of your own.
When you pull everything within your brand and business together in a simple, strategically cohesive way, you position yourself as the expert. And when you're perceived as the expert, business runs on your terms.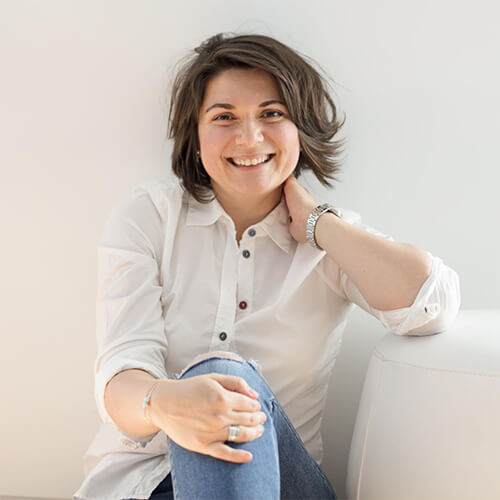 Suzi's work contributed to having my best month in business until that point. It also gave me more more confidence around what I was putting out there and that absolutely drove sales in! She's a great professional, extremely talented writer, fine observer, and gifted branding artist.
Cristina Bold – Money Mindset Mentor


I'm now booked out with ongoing retainer clients and have started building a waitlist for my 1:1 services.
My brand has evolved so much since taking The Captivation Code – all thanks to Suzi and her unique take on what a brand "should" be. Taking this program helped me to re-discover what really mattered to me in my business – and how I could put that across in my brand and messaging. I had felt so lost and scattered before, and Suzi has an incredible way of honing in on what it is you want to say and helping you figure out how to say it best.
The messaging for my business evolved even further this year, and I know I wouldn't have had the confidence to own that without the work we did in The Captivation Code – and I definitely wouldn't have had the tools to put it into practice as effectively as I have! I now feel like I have so much more confidence talking with potential clients and my online community about what I do, why I do it, and how I can help them. I'm so grateful for the work in The Captivation Code and know it will continue to help me for years to come.
Rachel Shillcock – Designer & Creative VA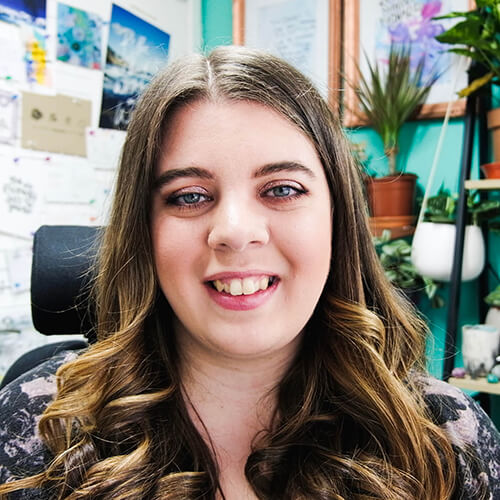 The Captivation Code begins 12th October 2020
So you could stick with the brand you have…
Doesn't feel like you anymore – it's just not a good fit for where you're at (and where you're going) in business
Doesn't reflect what you stand for – which means you aren't magnetising enough best-fit clients or opportunities
Isn't what you want to be known for – which limits you from putting yourself out there in a bigger way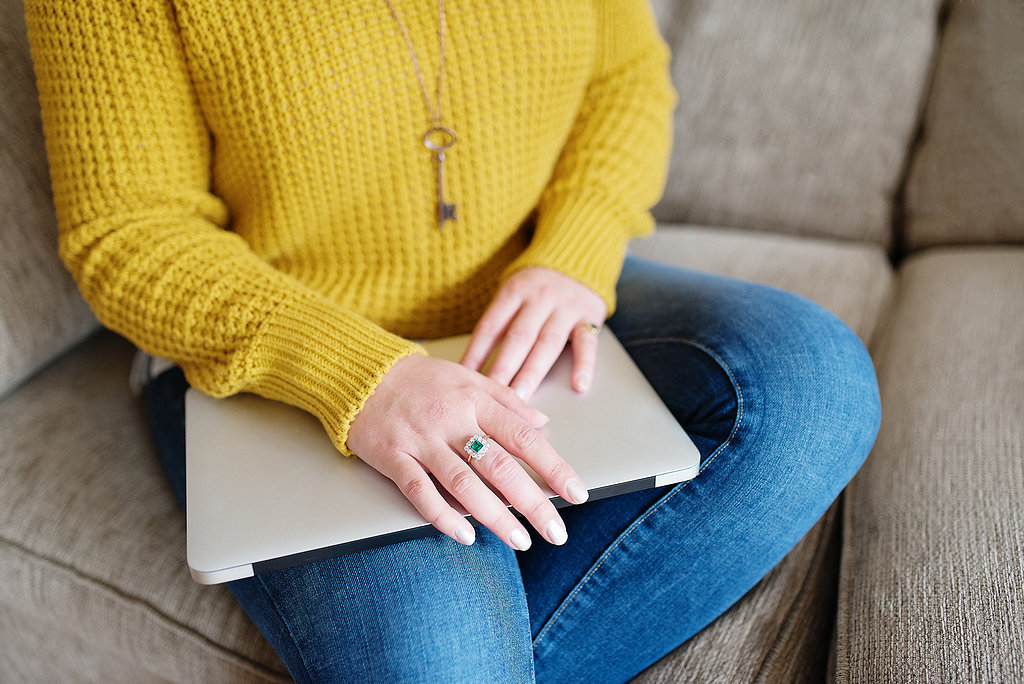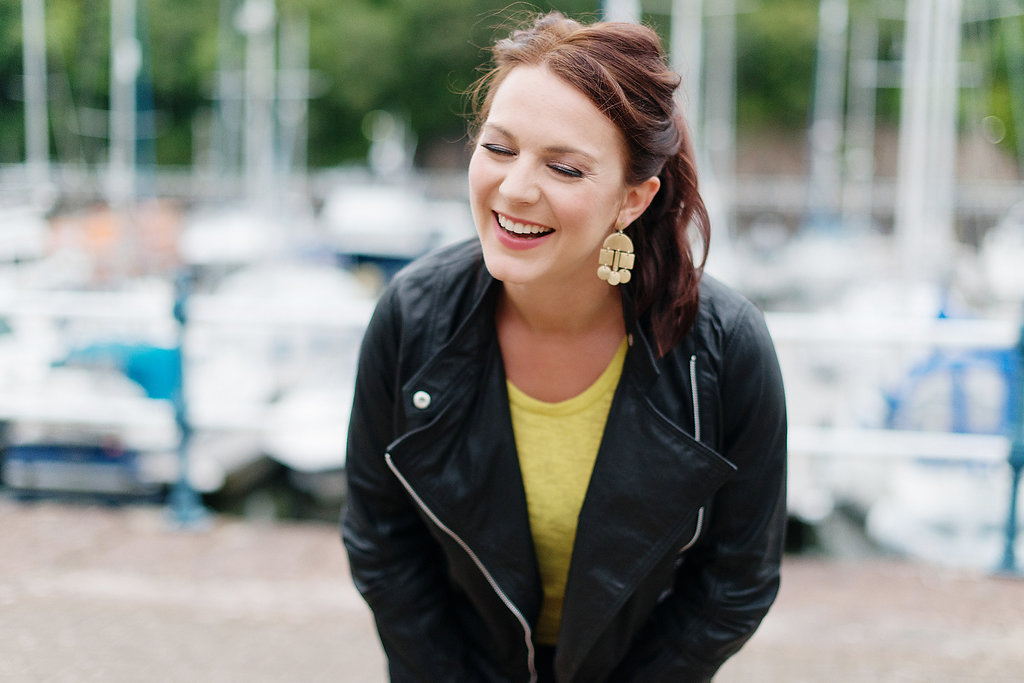 Or fight for the brand you crave…
Infused with your unique personality, philosophy, and point of view – so sharing it with the world feels natural and exciting
Crystal clear about what it stands for and what it wants to be known for – so you create a whole league of your own online
Captivates and delights the eyes and hearts of your best-fit humans – so your inbox is bursting with enquiries, your waitlist is brimming with names, and your bank account is having a dance party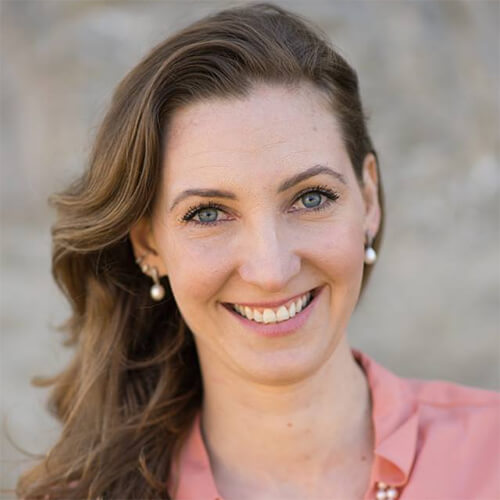 Suzi is the investment you didn't know you badly need. She knows how to turn an idea into a communication that makes money. I sold out my group program to the EXACT people I wanted to attract.
Robyn Puglia – Functional Nutritionist

Still not sure whether The Captivation Code is for you? Let's get you off that fence by playing a little game…
Go ahead and select all that apply:
You're working with *some* great clients, but not the premium, snuggly-fit clients you'd give your favourite house plant to work with (you know, the ones you stalk on Instagram but haven't seduced into your inbox yet)
You're charging decent rates, but still not the kind of rates you know your work is worth (and the rates that would allow you to book fewer clients / create that group program / take a month off / have more date nights / spend more time with sand between your toes)
You're stuck in hustle mode, chained to your laptop, exhausted from spending too many hours every month searching for clients instead of attracting them to you (or selecting them from your waitlist)
Your brand simply doesn't reflect YOU and what you stand for in business any more and you're *kind of* embarrassed by it – not ideal when potential clients are combing through your website every day wondering if you're The One for them
Your brand lacks clarity, creativity, or cohesion (or, DUN DUN DUN, all three) and it's stopping you from putting yourself and your work out there in the way you so want to
You're not standing out or being recognized as the leader you know you are because your brand doesn't position you as a leader, period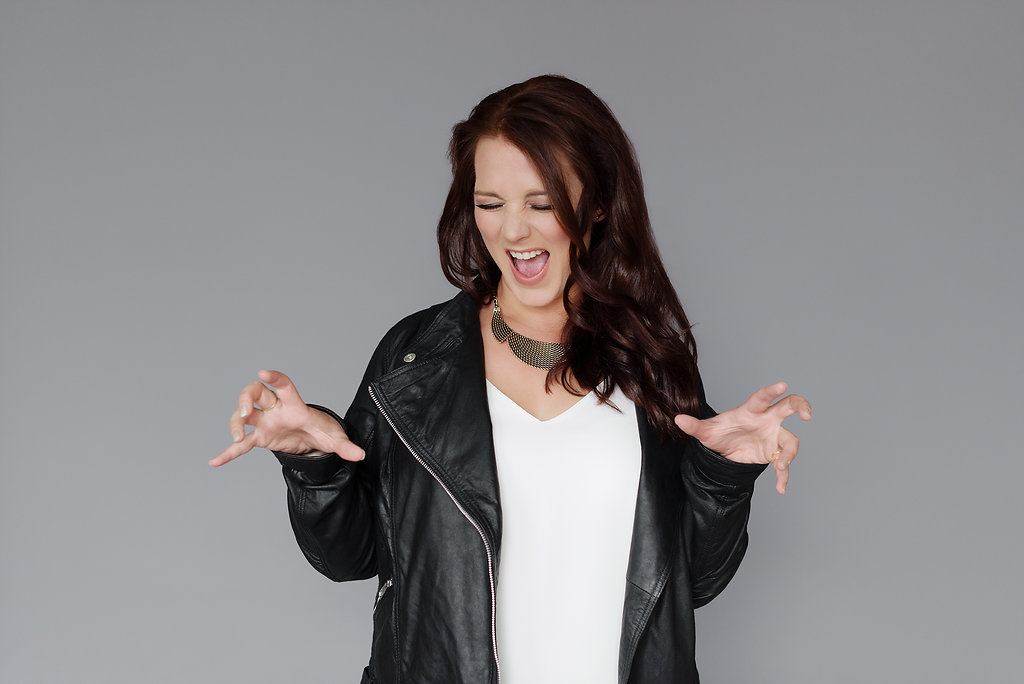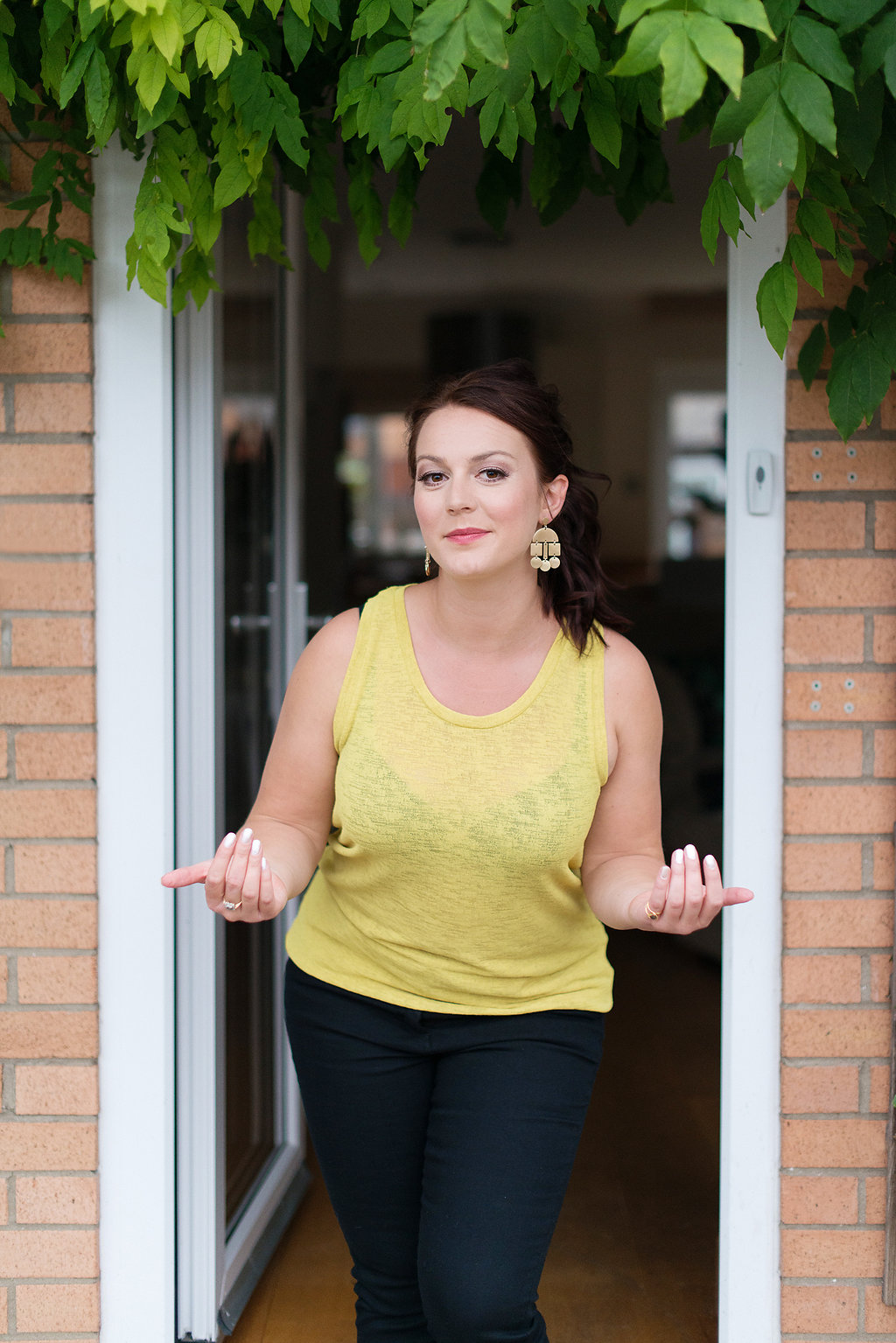 If you selected one statement, your brand sounds like it's doing pretty great. But if I know you, you're always looking for ways to improve.
If you selected between two and four statements, there's plenty we can do to build or rebuild your brand the right way.
If you selected between five and six statements, HOLY MUSHROOMS DON'T PANIC I GOT YOU.
The truth is, almost every online business will experience this phase where you feel like you're outgrowing what's brought you to this point but aren't sure what comes next.
You don't want to get it wrong and risk screwing yourself over.
You don't want to miss the opportunities lurking right around the corner for you.
You don't want to have to "remodel" your brand every few months (and spend ££££ every time).
So… don't.
Instead, join The Captivation Code, build THE captivating brand now, and let the business and life you want follow.

Got a question? The answer might be here.
What do I actually strut away with after The Captivation Code?
The intangible stuff:
where-have-you-been-all-my-life clarity on what your brand strategy + story is and how to confidently express that in a unique and 100% aligned way through your different brand touchpoints.
The tangible stuff: your full-of-diamonds Brand Book and your own actionable Captivation Code, which will serve as a rock-solid foundation for your brand that you can use to make business decisions in minutes instead of hours and protect any future investments you make in services like design, photography, and copywriting.
Who is this perfect for?
This is designed for the online service-based business owner who's the face of their brand, is at least a year into business (or knows the specific type of clients they want to be working with), and already has a revenue stream. Plus, they'll be seeking clarity on where to take their brand, help uncovering what their "magic" is and how to express it with confidence, and simple strategies they can implement in their own original way.
How long do I get access to the program?
The live experience itself is 10 weeks, but all of the materials (videos, your Brand Book, the template Captivation Code, and anything additional I create) is yours for as long as we both shall live.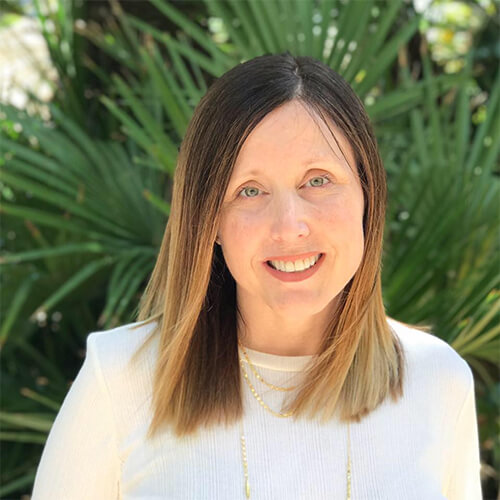 What Suzi created is priceless. She helped me with my strategy which was great when I second guessed myself and she incorporated my business message and what sets me apart in such a unique and memorable way. Suzi really understood my brand mission and what makes it shine and so brought it to life in a way that far exceeded my expectations.
Lissa Sandler – Website Strategist + Designer

So, do you want to come inside and take your seat at my table?