Your personal invitation to…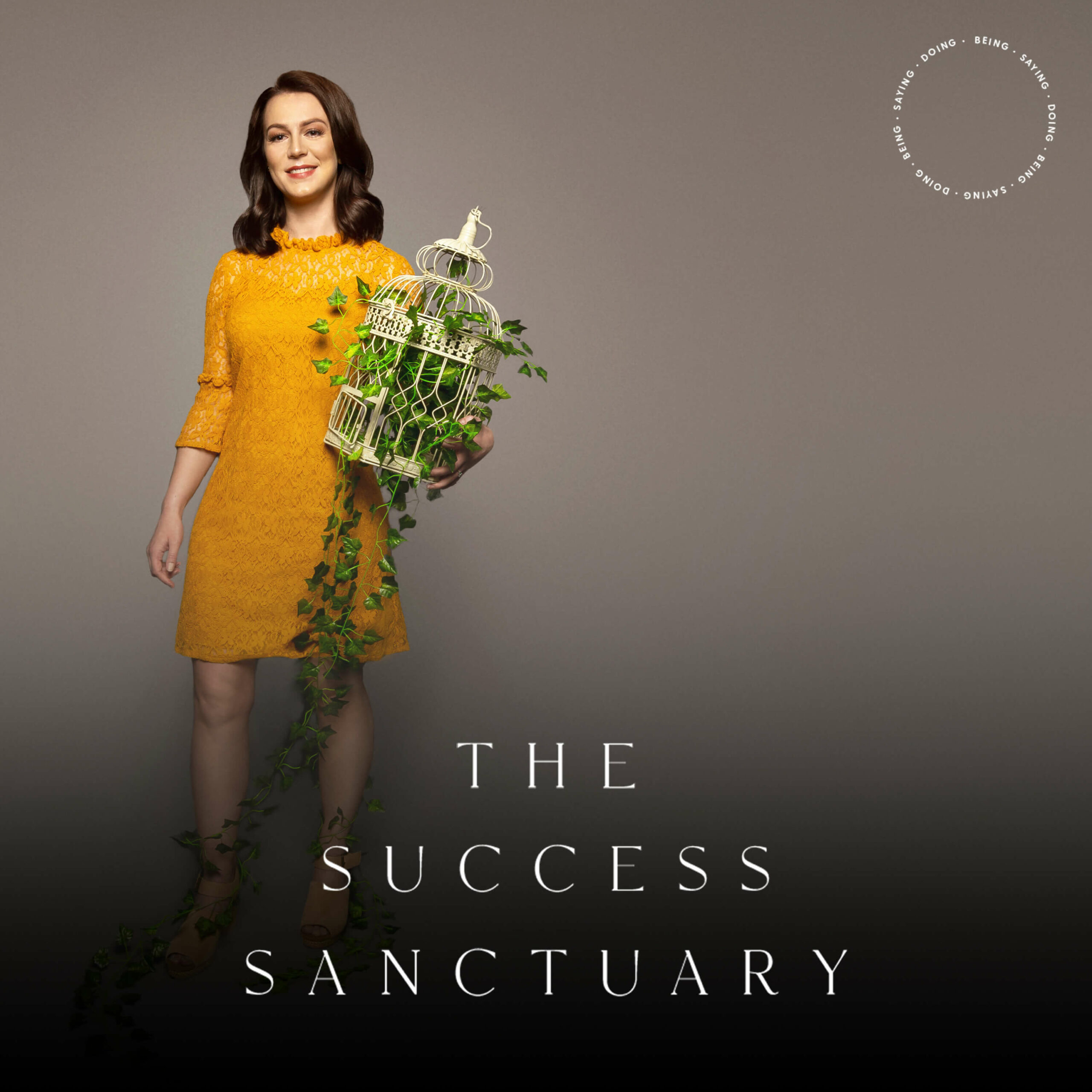 Dear quietly-ambitious business owner,
I sat down to write a sales page… but you've read hundreds of those before. So I decided to write a love letter instead. Because aren't we doing this for love at the end of the day? 
In all the years you've been running your business, you've been sold the lie that "success" is a result. It's an amount of money, or a number of clients, or an <insert BIG ARBITRARY GOAL here>.
I'll be honest. I sold this lie too. My own messaging has been tied to those kinds of tangible outcomes — even when it didn't feel good — because that is the way messaging is done. 
Until one day I listened to the wisdom within that whispered it's not the only way. 
I fiercely believe that success is a journey, not a destination. Typical online marketing will have you believe it's a destination because that way you'll constantly feel like you're not enough, you're not saying enough, and you're not doing enough. 
And once you reach the destination you thought you were heading for, suddenly you'll be sold a new one that you're "supposed" to desire. Hence the feeling you have never and will never reach the pinnacle of success. 
That's not how I roll.
In my eyes, no matter what your desires look like, you're already a success story. And you're a success story still being written…
Even if you feel like a best-kept secret in your industry, you've been selling your skills and experience for long enough to know that you're exceptional at what you do. 
You don't need me (or anyone else!) to tell you how to make money or how to find clients. Could you experiment with new strategies? Sure! But you're self-sufficient, resourceful, and you already know what you're doing.
So why do you still feel like a bit of an outlier in this online world? 
Why do you feel like your next step needs to be more of an unconventional leap of faith? 
Why do you feel like the traditional business success narrative just doesn't speak to you in the way it seems to speak to others?
It's not because there's something wrong. 
You've simply reached the point where it's time to be in a different room. 
A room where your peers also believe success is a journey and not a destination. (Yes, they exist.) That there will be smoother paths and rougher paths and we welcome them all because we know they all contribute to our growth.
A room where your peers seek transformational experiences over tangible results because they know it's the experiences that ultimately lead to the results. 
A room where your peers understand that numbers are important, but never make it all about the numbers. We love money, but it's not our primary motivator. 
A room where your peers know they already have "enough" and are grateful for it. While we may joyfully pursue "more" we are not attached to a timeline for creating it.
A room where your peers understand that life and business are intertwined and one always impacts the other. We prioritise rest and play as much as work (if not more). 
A room where your peers do not concern themselves with the "shoulds" and instead listen to the wisdom within and trust their true desires to guide them. 
A room where your peers are devoted to boldly leading themselves, fully expressing themselves, and calmly driving themselves to their unique definition of success.
Oh, and a room that doesn't cost £20,000 to enter 😉 
Here's the thing. 
We are not just peers.
We are pioneers. 
And we choose to walk alongside each other to pave the way for a better, brighter, braver world. 
Whether you see it or not yet, the way you move through the online world IS different from the norm. 
But that doesn't mean you're alone. 
***
In November 2021 I became a mother. And while I was deep in the throes of the fourth trimester, something else was born. 
An idea. 
An idea that I could turn into an asset.
(I think this is exactly what you want to do too. Turn your bold and brilliant ideas into unique and irresistible assets.)
The name came to me while I was in some kind of lucid stupor around 5am. 
The Success Sanctuary®. 
A place where who you become is more important than what you've done.
A place where you can leave the shoulds at the door and follow the wisdom within instead. 
A place where you can lead yourself down the path of least resistance into the business + life you *truly* want.
It wasn't meant to be a follow-these-specific-steps-to-get-this-result style group coaching program…
And it wasn't meant to be a let's-get-in-a-zoom-room-and-chat-general-business style mastermind…
It was meant to be a beautiful hybrid. With a focus on pioneer positioning and radically redefining success. Something the online industry hasn't really seen before.
A nine month mentorship-meets-mastermind for quietly-ambitious online creatives, coaches, and consultants ready to birth their life's work on their terms. 
This is my life's work.
And as I deepened the idea and started considering what was missing from the industry for people like us, it struck me like a lightning bolt. There were three intertwining areas The Success Sanctuary® needed to cover. 
Self-leadership: BEING. Who you are as you move through the world.
Self-expression: SAYING. What you say as you move through the world.
Self-drive: DOING. How you move through the world.
I call this The Success Trifecta®. Because all three are essential to growth. All three are essential to knowing and having. And you deserve to belong in a space where all three are respected. Consider this the context for our time together.
Within that context, there are four core strategic areas that I support on.
MODEL: Streamline + optimise your business model and offer suite so you operate only from your zone of G and are set up to make more and live more.
METHODOLOGY: Illuminate your innate brilliance and leverage it through concepts, frameworks, and IP so you can position yourself in an even more powerful + aligned way.
MESSAGING: Craft wildly memorable messaging that articulates the true value you bring to the table, amplifies your authority, and helps you feel fully self-expressed.
MARKETING: Build a custom minimalist marketing plan that's totally you-infused, simple, and fun to implement consistently so you captivate even more of those pinch-me clients + opportunities.
Whether you're looking to shift from 1:1 work to groups…
Reimagine your service-based offerings…
Pivot from service-provider to coach or mentor…
Develop new unique methods, courses, and programs…
Completely rebrand or reposition yourself…
Simplify your business model…
Elevate your visibility through new or existing channels…
Experiment with more sophisticated messaging…
The Success Sanctuary® will hold you through it all.
***
If we haven't had the pleasure of meeting yet, I'm Suzi Gray. Business mentor for quietly-ambitious online experts and rising thought-leaders who are devoted to growing a deeply rewarding lifestyle-led business rather than an "empire". One that prioritises simplicity, spaciousness, and sustainability. I'm also a recovering lawyer, mum to baby Alfie, nature lover, foodie, and I live on a gorgeous little marina in the UK.
I've been hanging out in my corner of the internet for around 8 years now — I started as an in-demand copywriter, then shifted into brand positioning strategy, and later into business mentorship — and I've collected SO much wisdom along the way.
I'm not here to make wild promises, and you're not really interested in hearing them any more. You know by now that your results come from you. So while I *could* list out all kinds of internal and external results my clients have achieved with my support, I'm not going to. Radical, right?
Instead, here's how a few of them have described my mentorship style:
"Smart, supportive, non-judgmental. An absolute 10 in my book. Suzi is a very understanding person. Even when we are both coming from vastly different life experiences, she tries to see things from my perspective. It feels like a co-learning journey and that is very valuable for me." – Mariana Pena, Instructional Designer
"Suzi's encouragement and accountability style feels growth-oriented and collaborative. I appreciate her fearless but nurturing challenges and revealing my blind spots, and I always feel that she's in my corner. When you're looking to level up, but you aren't sure how, you need Suzi as a mentor. She sees the gold inside of you and your business and helps you see it too. She effortlessly guides you to review where you are, where you want to go, and leads you there." – Illiah Manger, Creative Director + Designer
"Suzi is a super smart and incredibly talented at bringing out the best in you. This is an investment in your business but also in yourself. Suzi mentors you like a loyal friend who truly sees what is possible for you (maybe even things you cannot see) and doesn't let you settle for less then than your dream and vision. It blows my mind how wise she is. She has a really interesting way of seeing business and I love being a part of it." – Lissa Sandler, Brand Transition Strategist
"I'd say I hope to be like her some day because I felt taken care of and I think we want all our clients to experience that warm welcoming experience. You're not just a mentor – you're a friend." – Yasamin Salavatian, Positioning Strategist
I want you to choose The Success Sanctuary® because you know in your bones that I will respectfully, empathetically, and gently-but-fiercely support you through your unique growth journey. Wherever that may take you.
***
The vibe of The Success Sanctuary® is luxurious simplicity. Think being in a gorgeous, lush-plant-lined, exclusive oasis where your every need is met… but with your cosiest clothes on and bare feet.
There's a monthly Pioneer Positioning Mentorship Call. This is where we get down to needle-moving business and I bring both my strategic and creative hats to the table. Whatever you're creating, whatever you're brainstorming, whatever you're questioning, I'll offer my best guidance and recommendations based on my years of experience as a business owner, brand messaging + positioning expert, and minimalist marketer. This is less about me telling you what to do and more about me showing you how I think. You are always the one making the decisions.
There's a monthly Radically Redefining Success Mastermind Call. This is where we have the perspective-shifting conversations that help you be who you want to be, say what you want to say, and do what you want to do. You're at the point in business where you're craving deeper and more potent connections, and these calls will provide the canvas for that. Bring a paper, pen, and your favourite beverage!
There's a Private Success Sanctuary® Facebook Group. I'll be in there every weekday (apart from Wednesdays as that's my day with Alfie) to support you between our calls. Consider me a mentor in your pocket. You can literally ask me anything and I will be there for you. There's a reason why so many of my clients have become friends! This is also where you can get a behind closed doors look at my own business. What I'm doing and why, the way I make decisions, the mistakes I've made, and as-it-happens learnings. 
There are monthly Asset Reviews. Hands down, one of the most valuable parts of this mentorship-meets-mastermind. (My clients ADORE these.) Get my personalised and detailed feedback on anything from brand concepts, to content plans, to sales pages, to social media posts, so you feel ready to show up with conviction and share your work with the world.
There's a 1:1 Initiation Call, Transformation Tracker, and Quarterly Private Voxer Days. We start your time in the Sanctuary with a 1:1 call where we set goals and milestones that feel nourishing to your nervous system and stimulating for your soul. These are placed into your Transformation Tracker. Then, you have three private Voxer days during our nine months together where we dive deep into your brain + business, find clarity, expose resistance, make decisions, and move you closer to your goals. This level of private support on top of the group support is invaluable.
There's an Audio Wisdom Library. This isn't a curriculum of strategies and tactics (which I believe need to be customised in order to actually work). It's a curated collection of short lessons, concepts, ideas, and principles I've gathered and developed over my own journey all in one place. These are categorised under the Success Trifecta®: self-leadership, self-expression, and self-drive. This library will continue to grow as I do. There are no shoulds or musts. Simply take and adapt what feels good, leave what doesn't. 
There's monthly Success Mapping + Tracking. You and only you get to define what success means to you and what your success journey looks like. This simple mapping + tracking system will allow you to bring focus to that journey and see how you're progressing towards your true desires. This is also an opportunity for me to walk with you, notice any potential blindspots, and mirror what I see back to you to facilitate greater expansion. (Seeing what others don't is one of my superpowers.)
If you're wondering why there aren't more calls, it's because I'm here to do the opposite of overwhelm you. Do you really want to commit to weekly calls when you're seeking more spaciousness in your calendar? Yes, deep work is done on the calls, but the Facebook community exists so that you get all the additional support you need exactly when you need it. 
***
I'm not here to sell you a solution to your problem.
I'm here to show you the depth of your potential. 
Because I don't want your life to feel like a masterpiece one day, I want your life to feel like a masterpiece every day. 
Your work is so much more powerful than you're currently giving yourself credit for. I want to help you see that and share it with the world in a way that feels like morning sunshine kissing your skin. Electric. Delicious. 
Higher level thinking. 
Greater self-awareness. 
Moving in integrity with our soul, not our ego. 
Let's position you as a pioneer and find your path of least resistance to boldly leading yourself, fully expressing yourself, and calmly driving yourself to your unique definition of success.
The investment is 9 monthly payments of £400 (approx $485).
There is a pay in full discount available. 
You can join any time. And while I am so excited to welcome you inside, I'm not here to place any pressure on your decision. You will come to know that I value integrity over everything else.
If your *primary* motivator is making money, we aren't the best match. But if you and your quiet ambition places greater value on the soul-satisfying stuff that can't be measured in a spreadsheet, like:
The luxuriously simple way you run your business
The joyful autonomy you have over your day to day life
The exquisite peace you feel in the present moment
The wild curiosity you follow because you know it's going to lead you somewhere worth going
Then we could be a perfect match.
***
If you know you're meant to be in this space, you're at least intrigued, or you have any questions at all, click the button below and apply. It's a short application form that gives me an opportunity to get to know you a bit before we have a call.(Psssst, fellow introvert here. I know Zoom calls can be draining but it's incredibly important to me that we have a proper chat before you make any decisions! Plus my clients tell me they leave our calls more energised than when they joined 😊)
All you'll need to start this adventure is a suitcase containing:
One inquisitive mind.
One open heart.
One deep exhale.
Remember, you're a success story still being written…