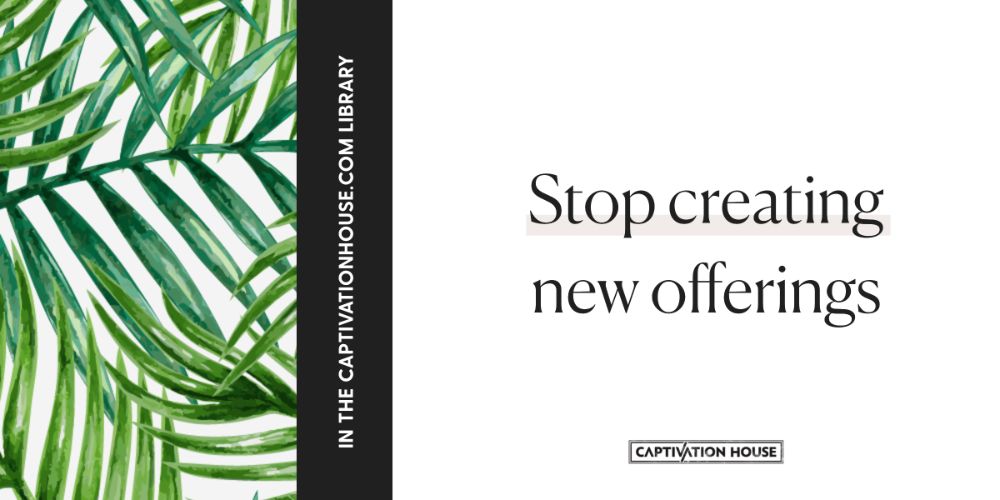 Stop creating new offerings
FOR THE LOVE OF BOX-BAKED CAMEMBERT WITH CHUTNEY AND RUSTIC BREAD, STOP CREATING NEW SERVICES OR PROGRAMS.
Why the capital letters? Well, I see so many entrepreneurs in this online space pumping out new offering after new offering, and it makes me all 🤔🤔🤔
Is it because people weren't interested in the last thing you put out?
Is it because you're not stupidly excited about anything you've created?
Is it because you're confused about what you actually want to sell?
Is it because you think you HAVE to have at least three packages to cater to your audience?
Whatever the reason, it sounds like adrenal fatigue, bottled. And, frankly, how can you become known for something if you can't stick with anything?
A huge part of building a captivating brand is building a signature service or program that turns what you stand for into what you're known for.
It doesn't mean you can't sell anything else, but it means:
You put your excitement into creating that one thing
You put your focus on selling that one thing
You put your effort into perfecting that one thing
Once that's nailed, you can consider on-brand expansion.
FIND YOUR ONE THING. GO ALL IN.
That's intentionality. And it's the difference between a leader and a follower.