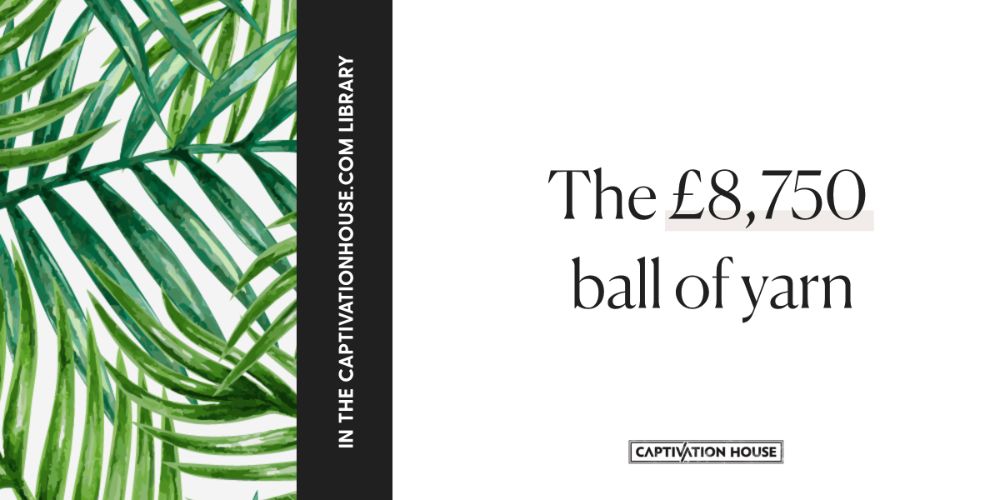 Would you spend £8,750 on a ball of yarn? No? Not even if it was designed by New York artisans and made from sterling silver?
I wouldn't either. That money could stretch to at least 8 holidays featuring more sun, sand, and steak than currently feature in my life.
Does that make it a ridiculous idea, then? Because… a silver ball of yarn is exactly what Tiffany & Co is selling for £8,750. (It's listed under "everyday objects" LOL.)
Of course it doesn't! There will absolutely be a market for this – and for the £965 tin can, £470 ruler, and £290 yo-yo – even if I'm not part of it. And I'd say here's how you can take a leaf out of Tiffany's book, but the leaf would probably cost a small fortune so let's skip the leaf.
POSITIONING
Tiffany & Co has been positioned as a luxury brand for years and years, and as the meaning of and market for luxury shifts, so does their approach. Even the CEO has stated that the brand became "synonymous with expensive, exclusive, formal, somehow arrogant, and this is not the way society is going". That may be so, but Tiffany is the iconic brand it is today BECAUSE of its positioning as expensive and exclusive. It can price a silver ball of yarn at £8,750 not because it's necessarily worth that much but because it knows there are a minority of people who will buy it.
EXCLUSIVITY
To dig further into the point I made above, people buy from Tiffany & Co because of the quality and the design and whatever, but also because they know not everyone can. When I was in high school, a few people had these chunky Tiffany bracelets with a dangling heart on them. (This was a small teenage trend that came a few years after the yo-yo trend – and you can be sure the yo-yos we used in the playground did not cost £290.) The teens who had these bracelets felt like they were part of some special club, courtesy of the bank of Mum & Dad, and the teens who didn't weren't invited.
UNIQUENESS
If you buy from Tiffany & Co, the idea is that you're not buying a piece of jewellery or an "everyday object". You're buying a piece of art. That piece of art will make you feel something. It will say something to you and others about the kind of person you are or wish to be. And it will only be available from Tiffany & Co. Think of it this way, where else can you buy a sterling silver piece of yarn?
So, are you positioned in a way that makes it easy for you to charge what your work is truly worth? It's not about the majority who won't buy, it's about finding that small group of best-fit humans who will.
Are you intentionally making it clear that your brand is exclusive to that small group of best-fit humans?  
Are you bringing some kind of uniqueness to the table that makes those best-fit humans feel something?
If not, this will help.
As for Tiffany & Co, the only thing I'm interested in is whether one day they'll sell breakfasts. Oh wait, they already do.